Amber Fort Elephant Ride
One of the highlights of a visit to the stunning Amer Fort is the chance to ride an elephant up the hill to the main entrance. These wonderful animals are decorated with traditional painted patterns and effortlessly transport visitors up the steep slope to the fort. The Amer Fort elephant ride is a fantastic experience, but visitors must arrive early to guarantee a ride and expect to suffer from touts and haggling.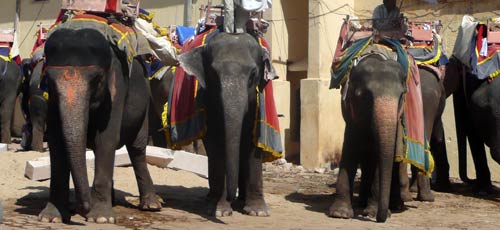 The Elephants of Amber Fort
Tourist Information Amber Fort Elephant Ride
The Amer Fort elephant ride costs Rs1.000 for two people and it takes approximately 20-30 minutes (depending on elephant traffic!) for the elephant to slowly trudge up the hillside to the main courtyard. The Jaipur government fixes these rates, so touts who try to sell more expensive pre-booked rides are simply conning visitors.
The main path up to Amber Fort
There are approximately 80 elephants, which carry up 900 visitors per day. There is a limit to the total number of journeys each elephant can do in a day and this has been introduced to prevent over working the elephants, and possible animal cruelty. It is therefore recommended to visit the Amer Fort early in the day (before 9:00 am), to guarantee a ride and avoid the queues. During the tourist season most of the elephants have finished their quote of rides by 11:00 am. As there is such demand for the rides there is no chance of haggling the price down.
On the way up, the driver will ask for a significant tip either for himself or to feed the elephant, while a photographer will appear to take a photo and pester the tourist later. The elephant rides are in only one direction heading from the car park up to the main courtyard. The welfare of the elephants has significantly improved, but the tourist facilitates have not. Many visitors find themselves stood for a long time, under the intense sun waiting for a ride. It is strongly advised to arrive early!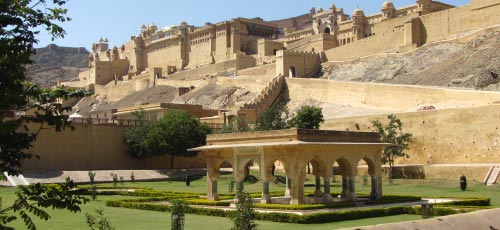 Amber fort Elephant Ride Welfare of the Elephants
The conditions and treatment of the elephants has greatly improved over the last years. Originally, the elephants would work all day and carry four passengers plus driver. Today the elephants are limited to five trips and carry only 2 passengers.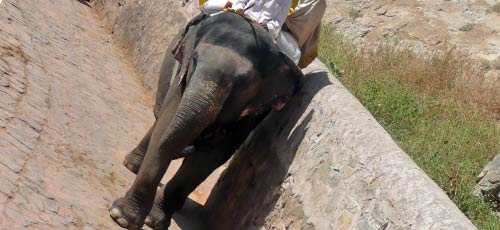 An Elephant on the way up to the fort
The Jaipur government ensures that the animals are healthy and performs routine inspections. Things are still not perfect, as herders can be aggressive towards the elephants and do hit them, while the hot summer weather is also punishing for the animals. The attitude with the animals in India is not the same, as in the western countries and certain visitors may be disgusted by the treatment.
Jaipur India Holiday Travel Guide