Why Is Jaipur the Pink City?
Jaipur is known as the Pink City and on arrival visitors will immediately understand the reasoning behind the name. Every building within the walled historic centre is painted a terracotta "pink" colour and there are few exceptions to this uniformly colour scheme.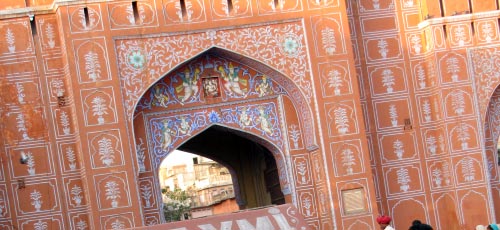 The pink city walls of Jaipur
This colour is so significant to the heritage of the city that it is enforced under local law. Considering the woes and inadequate infrastructure of Jaipur it may appear baffling to visitors as to why there is such a coherent colour scheme running through the city.
This guide will detail the history behind the pink of Jaipur.
History of the Pink Jaipur Colour
The historical reason for the uniform colour of central Jaipur lies with the absolute power of the Maharaja (Sawai Ram Singh) over his capital and his extreme strategy to impress Prince Albert during his 1876 tour of India.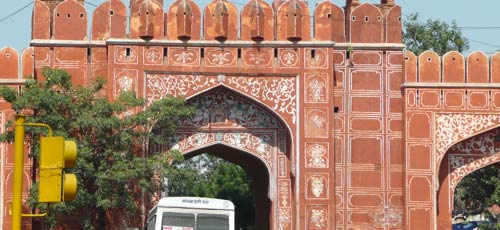 The pink city gates of Jaipur
Prince Albert spent a mammoth 17 weeks conducting royal duties throughout the Indian subcontinent but he grew tired and lonesome of his official engagements as he was without his dear wife, Victoria.
For Indian leaders this was an ideal opportunity to strengthen ties to the British aristocracy and gain personal acquaintances with the Royal family. The Maharaja of Jaipur was one of the richest and most powerful men in India and he impressed the British court like no other.
Maharaja Sawai Ram Singh II first strategy was to ensure Albert would visit Jaipur and to succeeded in this he constructed a lavish concert hall and named it in honour of the prince.
The exquisite Albert Hall stands amid the carefully laid out grounds of the Ram Niwas Public gardens and can be visited by tourist today. With Prince Albert enticed to Jaipur, the Maharaja set about beautifying his city and this included repainting the entire city.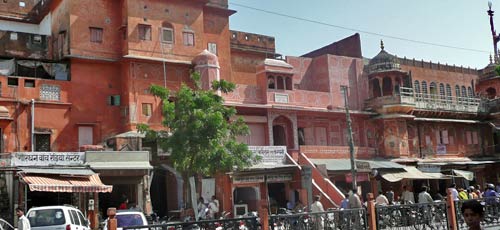 Every street is painted pink in the historic centre
The colour chosen was a terracotta pink as this colour historically represents welcoming and hospitality. The paint was produced from a calcium oxide compound and is extremely durable in the arid conditions of Jaipur.
Why Jaipur stayed Pink
Keen and sharp visitors may question how or even what why Jaipur maintained its distinct pink colour after the visit by Prince Albert 130 years ago. The answer lies with Maharaja Sawai Ram Singh's favourite wife who adored the colour scheme.
The queen with her private ear to the maharaja convinced him to pass a law making it illegal for buildings to be painted any other colour than Jaipur Pink.
This law passed in 1877 still remains in effect today and helps transform the otherwise polluted and dirty city into the pink city, albeit a grimy shade of pink.
Jaipur India Holiday Travel Guide