Sun Temple Jaipur
The Sun Temple Jaipur is a small Hindu temple that lies high above Jaipur and provides wonderful panoramic views over the city. The Sun Temple Jaipur is positioned on a rocky outcrop on the edge of the Aravalli Hills and is part of the larger Galta ji temple complex, which is 2km further to the east in a shallow valley.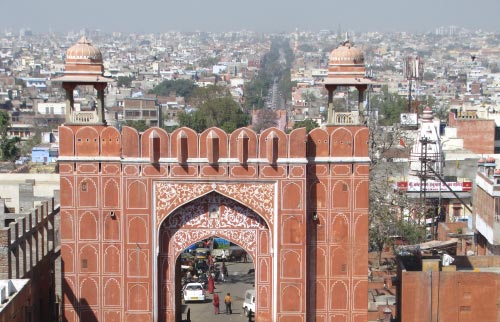 The view over jaipur on the way up to the sun temple
The Surya Mandir is one of the lesser known tourist sights of Jaipur but the combined relaxed atmosphere and great views make this a first rate attraction. To reach the temple requires a pleasant short hike up along traffic free cobbled roads. The best time to visit the Sun Temple is at sunset when the whole of Jaipur is bathed in golden sunlight and almost manages to look beautiful and serene.
Sun Temple Jaipur Tourist Information
There are no traditional opening hours for the Sun Temple Jaipur but is always open during daylight hours. Visitors may be requested to provide a donation but there is no fixed entrance fee. The temple itself is nondescript and only worth a passing glance when compared to the views. Most visits to the temple, including the short hike, are around 1 hour and this is extended to 2-2.5 hours if the monkey temple is also visited.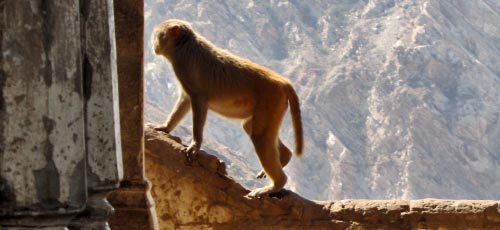 A monkey at the sun temple
The walk up to the temple takes 15 minutes from Surajpol Bazaar and this is the location were most taxi/rickshaw drop passengers off. Half way up the hill the path splits, right to the sun temple and left to Galta ji and the monkey temple. Monkey food can be purchased (Rs20) from Surajpol Bazaar and the monkeys are not shy when it comes to food.
Why visit the Sun Temple of Jaipur
A visit to the Sun Temple Jaipur temple is recommended for visitors who are weary of Jaipur's pollution, hassle and noise. The temple has a quiet relaxed atmosphere and is possibly the only tourist sight in Jaipur free from the onslaught from tourist peddlers and hawkers. The views are great but only on a clear day, this also applies for the sun set.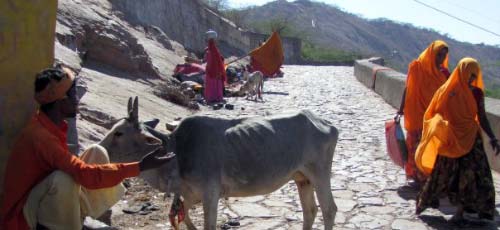 The walk up to the sun temple
Sun Temple Jaipur Details and History
The Sun Temple of Jaipur is 200 meters above the flat valley floor on which Jaipur is constructed upon and the distance of 2.5km to the historic centre means that all of the key monuments can be clearly seen. The temple's official name is the Surya Mandir, which when directly translated into English means the temple dedicated to the sun god. The sun temple was established in the 18th century and funded by a courtier of Sawai Jai Singh II.
Jaipur India Holiday Travel Guide