Amer Fort, Jaipur
Amer Fort is the best tourist attraction of Jaipur and the sprawling complex combines both immense fortifications with unexpected beauty and charm. The fort which visitors are able to explore today dates from the 16th century and is situated on a natural ridge 11km north of Jaipur.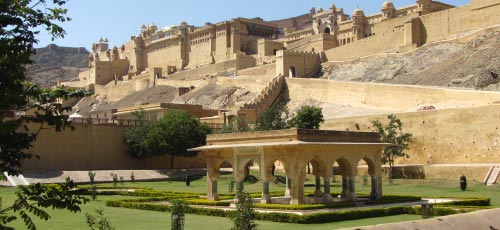 The main path up to Amber Fort
Elephants slowly transport tourists up the ridge in the main entrance courtyard and this makes for a wonderful entrance to the Amer Fort. Inside the palace are beautiful styled state rooms with semi-precious jewel inlaid decoration the finest example is the Sheesh Mahal the mirror palace. The Amer Fort is a top rate tourist attraction of Jaipur and must be visited by all tourists to the region.
Amer Fort Tourist Information
Amer Fort is open every day from 8:00 until 17:30 and the entrance fee is Rs 200. Amer Fort lies12km to the north of Jaipur and a single taxi fare will cost Rs200-250 while using the supposedly enforced auto rickshaw rate will cost Rs85 but most visitors pay Rs250-300 for round trip with 2 hours of waiting time.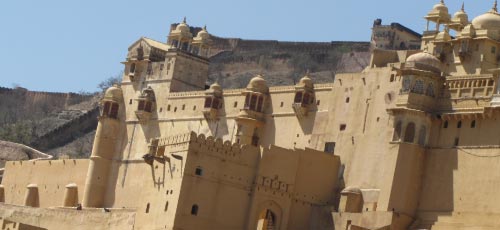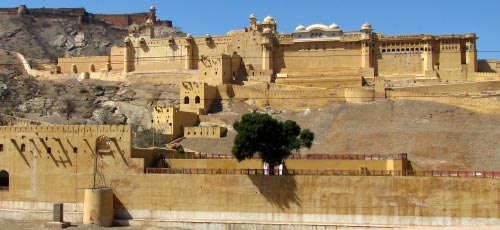 The Amber Fort is the incorrect name of the complex
The grandest way to reach the gates of Amer from the main car park is by elephant and this experience costs Rs900 for two people. Inside Amer Fort there is very limited tourist signage so most visitors hire a private guide that lasts for approximately 1 hour and costs Rs450, these tour guides do have a tendency to try to lead visitors to commission based shops afterwards though. There are acceptable toilets by the main entrance and a couple of expensive shops to purchase water and drinks.
Further Information For Amer Fort
The fort stands on the rocky hill of Cheel ka Teela (Hill of Eagles) that over looks the Jaipur and situated next to the Maota lake. Inside the palace the state rooms have be resorted and can be fully explored. Highlights include the chamber of a thousands mirrors is possibly the most beautiful of all of the inner rooms which supposedly can be full lit just by a single candle. There is an delicate carving of Ganesha (Hindu Elephant god), carved from a single piece of coral.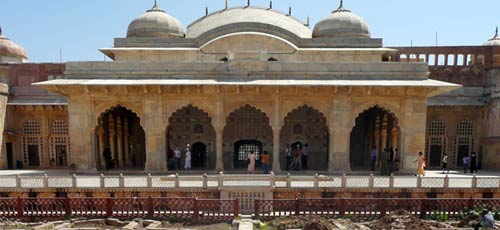 The inner state rooms and the symertical gardens
This ancient fortress became the capital during the reigns of the clan Amber Kachhawa (1037-1727). Constructed in the Senibinanya artistic style, combining elements of Hinduism and Mughal symmetry throughout. Man Singh, one of the first generals of Emperor Akbar started the construction of the fortress-palace of red sandstone and white in 1592.
Jaipur India Holiday Travel Guide