Jaipur India - A Holiday and Vacation Tourism Guide
Jaipur is a fascinating Indian city that boasts the finest examples of Rajasthan architecture and history but is blighted by the modern problems that afflict present day India.
Located in Jaipur are magnificent forts, sumptuous palaces and inspiring religious temples but also chocking pollution and desperate poverty. Jaipur is a city of extremes, and visitors leave either loving it or detesting it.
Any tour of northern India must include Jaipur, just be prepared for both emotional highs and lows. This guide will provide an introduction to Jaipur and links to further in-depth information.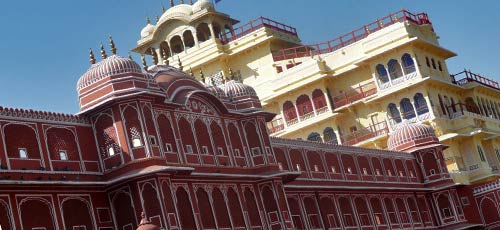 The Jaipur City Palace
A suggested 3 day Itinerary for Jaipur
All of the main tourist attractions of Jaipur can be seen within two days and a further day allows for the exploration of the lesser sights. A typical 3 day itinerary would be;
• Day 1 - City Palace, Jantar Mantar and central Jaipur.
• Day 2 - Amber fort and the Water Palace.
• Day 3 - Jaigarh Fort and the Galta (monkey) temple.
If the visit is during the hot spring months an additional day may be required but no visit will be longer than four days. Jaipur is a destination that should be part of a tour, do not plan to spend an entire holiday based in Jaipur. For a guide to visiting Jaipur in two days please click here, or if with limited for time see the 1 day itinerary.
When to Visit Jaipur?
The best season to visit Jaipur is during the winter months of November through to February. During this season the temperatures will at their lowest (but it is still hot). From April until the monsoon (July) temperatures can reach an unbearable 40C and combined with the pollution and dust makes sightseeing almost impossible. Jaipur experiences less heavy downpours during the monsoon season (July to September) than the rest of India but is not a great time to visit.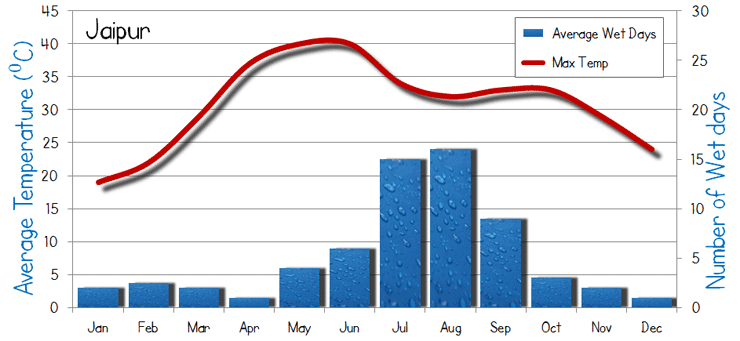 Jaipur India average weather
What is the best tourist attraction of Jaipur?
The stand out monument of Jaipur is the Amer Fort, this lavish 16th century palace stands atop of a cliff and has commanding view over the region.
The interior of the palace demonstrates the wealth and power of the mogul leaders; with jewel inlaid rooms to reflect the nights' sky, cleverly designed air cooling systems and a harem with secrete passages.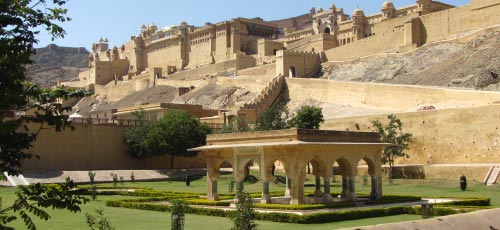 No trip to Amer is complete without being transported to the central courtyard on the back of an elephant, for a guide to the rides on these majestic animals please click here.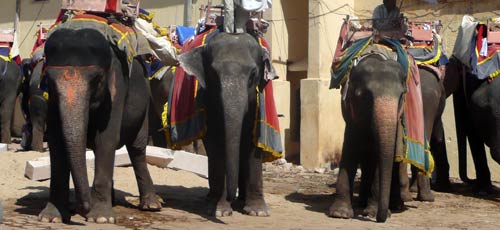 The Elephants of Amber Fort
What is the best hidden attraction of Jaipur?
The Galta Temple or more often referred to as the Monkey Temple, is an interesting temple complex of sacred water tanks, holy shires and a large colony of monkeys all contained in a steep rock valley.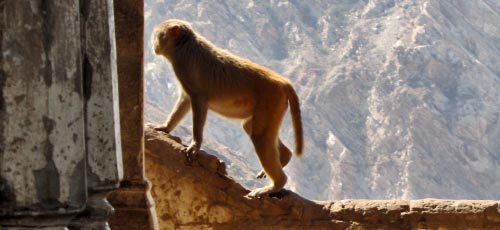 A monkey at the temple
The water tanks are holy bathing pools where young and old come to wash away their sins but this religious experience is shared with the large number of playful monkeys, who are hunting for tourist's food. To the west of the Galta, high on a ridge above Jaipur, is the sun temple the best place to watch the sunset over Jaipur.
Tourist hassle in Jaipur and India
Expect to be hassled by absolutely everyone in the tourist trade, who will be seeking commission from shopping trips, additional tips or haggling down from "tourist" prices. Jaipur is one of the worst Indian cities for this constant drain.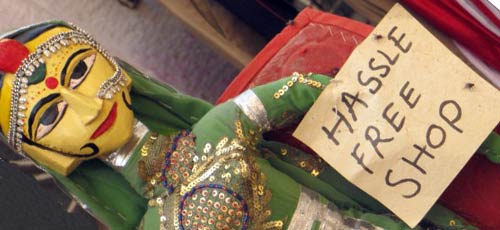 There is no such thing as a hassle free shop in Jaipur
The best approach is to be firm with tour guides, and willing to walk away from shops who will not sell the items at a reasonable price. For a guide to coping with the hassle of Jaipur please click here.
Why is Jaipur the Pink city?
Jaipur is known as the pink city as the historic centre of Jaipur is painted a terracotta pink colour and there is even a local law that instructs all buildings within Jaipur be painted the distinctive pink. The reason is that this pink is a royal colour and the entire city was painted, under the direction of the Maharajah for the visit of Prince Albert in 1876. To read more please click here.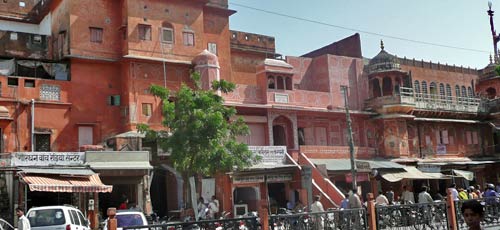 Every street is painted pink in the historic centre
Jaipur as part of a tour
Jaipur is situated between Delhi and the popular western Rajasthan area, therefore the city is a convenient destination to add to any tour of the region. For visitors following the shorter "Golden Triangle Tour route" Jaipur has a unique atmosphere and heritage when compared to Delhi and Agra.
Why Jaipur-Travel-Guide.com?
This Jaipur guide has been written by travel experts who have a love and passion for this city. They will divulge their specialist knowledge, personal travel advice and favourite sights throughout our pages. Our Jaipur guide is proudly unbiased, independent and, unlike other guides, we have visited every sight and write specifically for tourists and travelers.
Jaipur India Holiday Travel Guide