City Palace Jaipur
The city palace is open every day Monday through to Sunday. The opening hours of the City Palace follows the trend of Jaipur of shutting relatively early in the day, the opening hours are from 9:30 until 17:00. The entrance fee is Rs300/200 (adult/child), an informative audio guide can be hired for Rs80 and this is highly recommend as there are few inscriptions or details within the palace.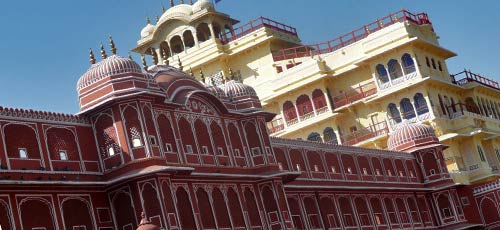 The City Palace of Jaipur
City Palace Tourist Information
Official tour guides can be hire for Rs300 with the tour taking approximately 1 hour, it is also usually expected for a generous tip at the end. For the true history fanatics or visitor with plenty of spare cash the inner state rooms can be visited as part of the overly inflate Royal Grandeur Tour that cost Rs2,500. All staff taking photos or providing some other minor service will expect a tip so ensure a handful of small change before entry. Most visits spend 1.5-2 hours within the City Palace complex.
Jaipur India Holiday Travel Guide