Jaipur to Delhi by Train
Jaipur is 260 km (160 miles) west of Delhi and both cities are popular tourist destinations that can be easily combined together in a short visit or part of a larger tour. Jaipur and Delhi are served by excellent transport links including rail, road and air services. Seven years ago the railway would have been the preferred means of travel but extensive road improvements have made coach travel much faster and safer.
Air travel is still comparatively expensive but great for travellers who are pushed for time. To compete with the growth of air travel and the extra demand for normal travellers a new rapid train service, which employs double decker carriages, has been introduced but this service does not depart from the standard Delhi stations, see later on in the article for exact details of the Sarai Rohilla express.
Delhi to Jaipur by bus or train?
Both bus and train are suitable means of travel between Jaipur and Delhi. Train travel has the advantage over coach travel as it provides a less confined seating/sleeping areas and access to decent (or acceptable) toilets. Rail travel is a safer option as Indian roads can still be dangerous especially on night buses. During a train journey there is the chance to meet real Indians who have nothing to do with the tourist trade.
The sleeper trains save on a nights boarding and generally a good night sleep can be achieved. The remainder of this article will focus on traveling from Delhi to Jaipur by train, the classic means of travel which is still enjoyable and highly recommended.
Jaipur to Delhi Trains
There are multiple direct rail services with journey times of between 4.5 hours (express single stop services) through to 7 hours (slow regional stopping trains). The following table lists a selection of the regular services between Jaipur and Delhi which depart every day. There are seasonal trains or services which are provided only on certain days of the week these have not been included. For exact information check the Indian railway website.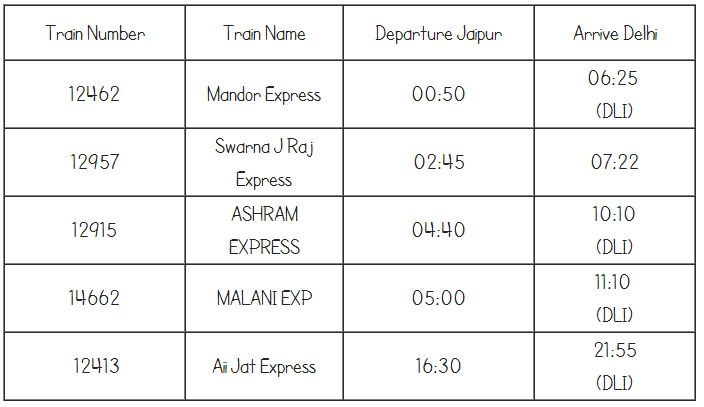 For trains arriving or departing from Delhi there are multiple stations used for common tourist trains (DLI - Old Delhi, NDLS - New Delhi). The station code of Jaipur is JP. The train numbers provided are the new 5 digit codes which some much out of date websites may not provide. When booking seats or searching for trains on the Indian Railway website the arrival, departure codes, train number and seat class need to known.
Delhi to Jaipur Trains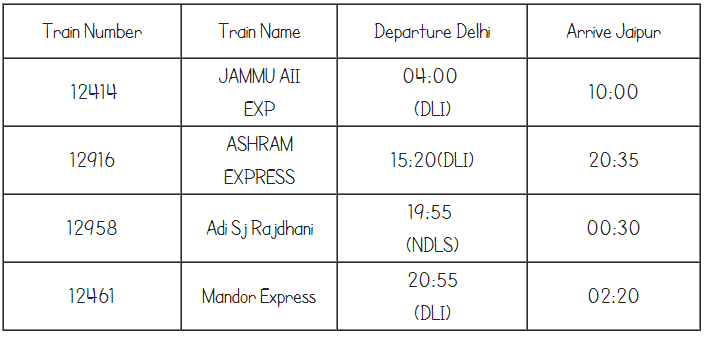 Ticket Prices for Trains
The following table list the prices of seat/sleep classes for trains between Jaipur and Delhi. The table lists the basic price but does not include the booking fee (25Rs - 35Rs) or additional cost for "Super-Fast Trains". For most travellers 2nd AC is a suitable option.

Train Prices for Delhi to Jaipur Trains - Correct at Spring 2014
The Jaipur Delhi Sarai Rohilla Express
The newly introduced Sarai Rohilla express train service cuts the train journey between Delhi and Jaipur down to just four and a half hours. The train has ample capacity as it uses double decker carriages and has over twenty carriages per service. There is a single departure each day in both directions; the Jaipur departure (service 12985) is at 06:00 and arrives in Delhi at 10:30. The Delhi departure (service 12986) is at 17:30 arriving at Jaipur junction at 22:00. The main disadvantage of the service is that it departs from the Sarai Rohilla train station and makes an attempt by Indian railways to reduce the capacity on New and Old Delhi stations.
Jaipur India Holiday Travel Guide