Jaipur Airport Guide
Jaipur airport is the largest airport in Rajasthan, handling around 1.5 million passengers yearly. Recently the airport has undergone a major expansion plan to improve the level of service and capacity of the airport so that today it is a pleasant airport to fly from. For visitors to Jaipur, the airport provides two convenient flight routes, with direct services to Delhi and Mumbai, which can save days of bus or train travel. Travel to and from the airport simply as the airport is only 15km from city centre and is connected by numerous taxis and rickshaws. This guide will provide an overview of the airport, travel from the airport and details of the flights relevant to tourists.
Overview of Jaipur Airport
Jaipur airport is relatively easy to fly in to or fly out from. The main terminal building is clean and modern with the expected level of services for an airport of its size. Facilities include ticket sales, hotel booking, car hire and left luggage. There is no free Wi-Fi. There are two terminal buildings.
Terminal 1 handles the international flights, with majority of the flights heading the Gulf States and little importance to most tourist to Jaipur. Terminal 2 is the domestic terminal and was construction in 2009. Jaipur airport was voted the best Indian airport by the Airports Council in 2012 which to be honest does not say much for all the others airports in India.....
Getting to/ from Jaipur Airport
Jaipur airport is approximately 30 minutes south of central Jaipur based upon daytime traffic (15km). A pre booked taxi to the airport costs around Rs200, while a rickshaw will cost Rs100-150 depending on haggling skills. At the airport pre-booked taxi and rickshaws can be hired and these are slightly more expensive but are a better option for weary travellers. Jaipur taxi drivers are notorious for forcing their choice of hotel onto unsuspecting visitors. Always have a firm choice of hotel in mind (or pre-booked) as taxi drivers will be very persuasive to get their commission.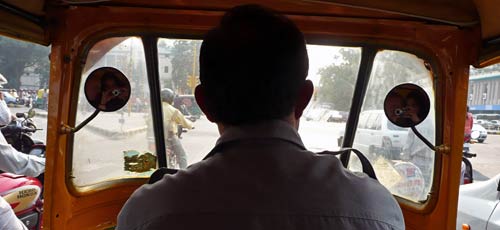 On the way to the airport
Useful Flights to from Jaipur Airport
The first convenient domestic route for visitors is flight between Jaipur and Delhi. This is only a very short flight of 50 minutes but removes the need for a six hour bus journey or night train. The flight is many times more expensive than the bus or train but is essential for visitors with limited time. The flight route is operated by Kingfisher Airways and Jet Airways and prices are around Rs 5,000.
The second domestic route of importance to visitors is the route between Jaipur and Mumbai. This domestic flight enables tourists to fly into Mumbai international airport and fly directly to Rajasthan. The train and bus journey are very long but the flight is only one hour and thirty minutes. Jet and Kingfisher Airways both fly the route with schedule daily departures. Flights are around RS9,000.
Jaipur India Holiday Travel Guide