Which is Better Agra or Jaipur?
Agra and Jaipur are both popular tourist destinations in northern India that offer varied and stunning tourist attractions but are markedly different from each other.
Jaipur is the capital of the arid Rajasthan state with its unique customs and cultures while Agra was once the capital of India and is located on the lush plains that surround Yamuna River.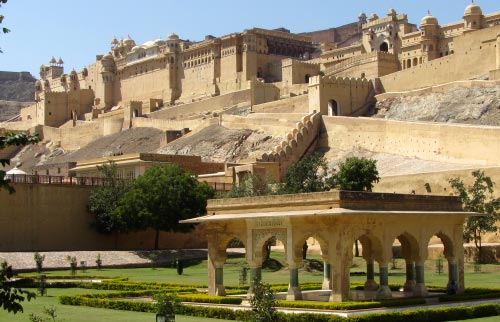 The Amer fort complex in Jaipur
These two destinations are often combined with Delhi and this tour route is referred to as the golden triangle of India. Certain visitors may be limited by time or budgets and have to choose between Jaipur or Agra. This guide will provide an overview of both cities and help to identify which is the more appropriate for your visit.
Jaipur or Agra - Major Sights
Agra has only one tourist attraction but it is possibly the finest monument in the eastern hemisphere. The Taj Mahal is imposing yet beautiful and surprisingly larger than most visitors expect. From a distance the marble mausoleum is magnificent while close up there is delicate and intricate stonework, simply put the Taj is a true wonder of the world. The only other attraction of Agra is the red fort but this is only a side attraction to the Taj.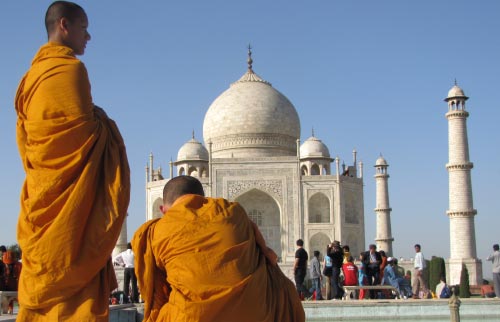 The Taj is simply stunning
Jaipur's history alternates from conflict to excess and this is reflected in the city's architecture. Jaipur has many more attractions than Agra, with a diverse selections of palaces, castles and temples. Fortified castles include the Amber fort and the Nahargarh Fort while palatial excesses of the ruling class include the Water Palace, Palace of Winds and Maharaja's City Palace. Jaipur has many more tourist attractions but Agra has the monument of India and possibly Asia.
Time needed to Visit Agra or Jaipur
The minimum time required to experience Jaipur is two days but to fully discover the region three or four days are required. Agra's lack of sights means that one day is only needed but sunrise is the best time to view the Taj. Visitors based in Agra will struggle to find things to do for the second or third day. Agra can be visited as a day trip from Delhi, either traveling by train or bus and for visitors who wish to stay longer in the Agra region should combine Delhi and Agra.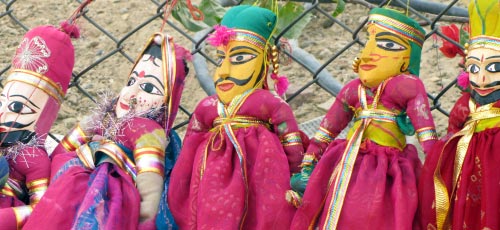 The colourful puppets of Jaipur
Visitor Experience of Jaipur or Agra
Both Agra and Jaipur have large tourist industries, which have unfortunately attracted the negative side of tourism. This comes in the form constant hassle and stress with forceful sales people, taxi drivers working for commissions and an never ending need to haggle on prices.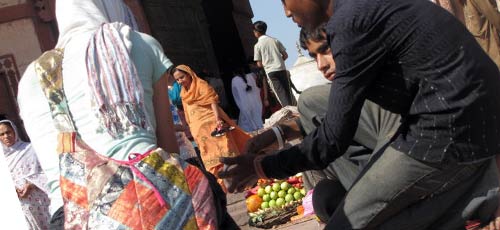 The haggling in Jaipur and Agra
The cities themselves openly display the inequalities of India life with extreme poverty combined with inadequate infrastructure. Jaipur's size tends exaggerate these factors but neither city are easy or beautiful to cities to visit. Jaipur has a slightly better selection of hotels at both the budget and mid price ranges but visitors will never struggle to find available accommodation in either location.
Agra and Jaipur Locations
Delhi is the location of the main international airport of Northern India and generally all visitors will be passing through Delhi at the beginning or end of their tour. Both Agra and Jaipur are easily accessible from the capital, Agra is 213km south of Delhi while Jaipur is 270km southwest of Delhi and the distance between Agra and Jaipur is 240km. Both Agra and Jaipur are connected by a good rail services and it is possible to visit Agra as a long day trip from the capital but this is not feasible for Jaipur.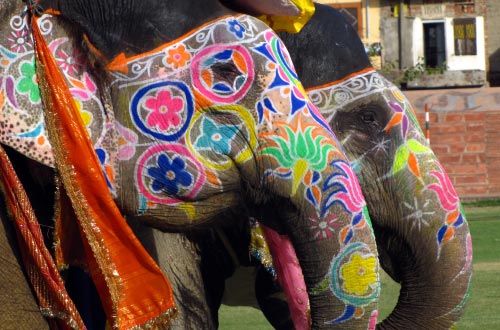 Painted elephants for the elephant festival Jaipur
Jaipur or Agra Conclusion
Jaipur is the superior tourist destination with magnificent forts and sumptuous palaces and is a good introduction to state of Rajasthan. Jaipur offers greater variety of tourist attractions and the standard of tourist facilities is better than Agra. The Taj is the most recognisable monument of India and Agra is worth visiting purely to see this magnificent building but Jaipur is the better destination.
Jaipur India Holiday Travel Guide