Surya Mandir Jaipur
Surya Mandir Jaipur is a small satellite temple part of the larger Galta Ji temple complex that lies to the west of Jaipur. From the temple's great vantage point, 200 meters above the city, there are wonderful panoramic views, which are best viewed at sunset. The Surya Mandir Jaipur is off the common tourist trail and with it the hassle of touts, beggars or peddlers. The temple's relaxed ambience, great views and pleasant short hike up the hill combine to make the Surya Mandir Jaipur a good tourist activity of Jaipur.
Tourist Information for the Surya Mandir Jaipur
The Surya Mandir Jaipur temple is 2.5km from central Jaipur and the access is along a traffic free path, which takes about 15 minutes to walk up. The nearest taxi rickshaw drop off is in the Surajpol Bazaar and here food can be purchased to feed the monkeys (RS20). The Surya Mandir Jaipur is part of the larger Galta ji temple, which is known by visitors as the monkey temple.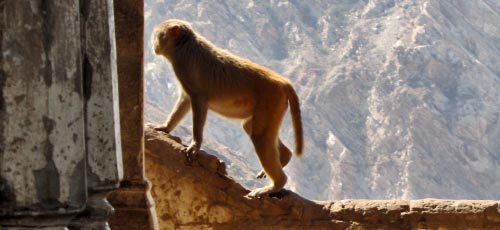 A Jaipur monkey at the temple
The main temple is 2km further east from Surya Mandir Jaipur and can be reached from the same footpath. The temple is open during daily light house and visitors may be suggested to provide a donation but there is no entrance fee. A typical visit to the temple last 60 minutes and this includes the 15 minute hike. A visit to Galta ji and Surya Mandir takes around 2 hours and the monkey temple should be visited first.
Why visit the Surya Mandir Jaipur
A visit to the Surya Mandir Jaipur temple is advised for visitors who are tired of Jaipur's hassle, noise and pollution. The complex is not one of the major sites and should be visited later on during an extended stay or combined at the end of a day if the visit to Jaipur is short. The main reason to visit the temple complex is to watch the sunset as it baths Jaipur in soft sun light and even makes the city look beautiful, well from a distance.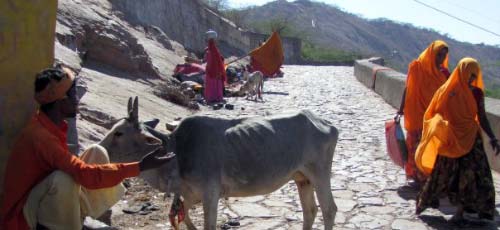 The walk up to the sun temple
Details and history of the Surya Mandir Jaipur
Surya Mandir Jaipur translated into English means the temple dedicated to the sun god. The temple was founded in the 18th century as the private temple for a courtier of Sawai Jai Singh II. The temple is on the edge of a rocky out crop, 200m above the flat plain of Jaipur and is part of the Aravalli Hills.
Jaipur India Holiday Travel Guide